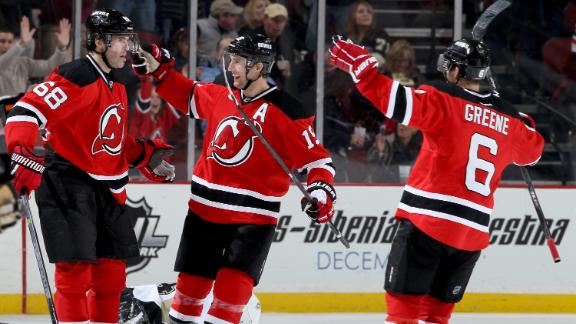 The Devils continued their domination over Pittsburgh when they play the Penguins in NJ. The Devils are now 11-2 at the rock in the last 13 games when hosting the Pittsburgh Penguins. The Devils got on the board first with an Andy Greene goal. Pittsburgh tied it at 1 late in the 1st on a goal from Chris Kunitz. Adam Larsson broke the tie late in the 2nd and Jaromir Jagr buried a wrister at 14:06 of the 3rd and then an empty-netter spin-o-rama with just over 2 mins to play.
Our 3 Stars
3 – Jaromir Jagr – It was a tight game until Jagr got the loose puck and high glove side on Fluery. His EN goal was just the icing on the cake that we already knew was there.
2 – Andy Greene – Another spectacular game from Andy Greene. He was phenomenal against the Rangers and put in another outstanding performance against Crosby and Malkin
1 – Martin Brodeur – Came up with a number of great saves, especially in the first period while NJ was still trying to find their game. With the Devils up 2-1, Marty made a huge save on Letang and then watched Jagr give NJ a 3-1 lead less than 2 minutes later.