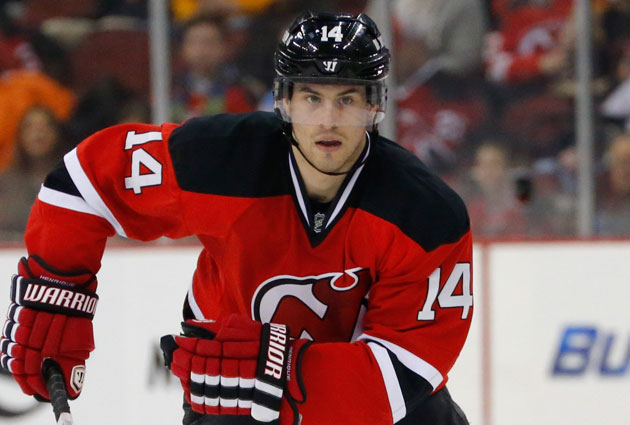 Adam Henrique currently ranks 3rd on the team with 14 goals, 7th on the team with 13 assists and 6th on the team in overall points with 27. Not exactly a player that has been putting the Devils on his shoulders and carrying them this season. Especially when you consider that Henrique he has only 2 games with multiple points this season and neither of those being multiple goal games. Yet I believe he could play a key role into getting the Devils into the playoffs over the course of the next 23 games. Why is that you ask?
The Devils are 10-1-3 when Henrique scores a goal.
If he can start scoring more often, the Devils could find a way to go from 7th to 3rd in the Metroterrible division over the course of the 23 remaining games. The Devils need someone to step up and start scoring goals on a nightly basis, so why not Henrique? If you look at the standings, you will see that Philadelphia, the current 3rd place team is only 5 points ahead.
Even is Henrique continues to have trouble finding the back of the net, he could still prove to be a key role in the Devils push to the playoffs. Currently he has 13 assists on the season which isn't a great stat, especially when look at Ryan Nugent-Hopkins numbers, who is a guy that Henrique battled it out with for the Calder Trophy back in 2012. Now to be fair, Nugent-Hopkins is a 1st line center where as Henrique hasn't been that but Henrique does have Elias, Brunner and at times Ryder on his line and all three of those can be excellent finishers.
Hopefully Henrique has used the Olympic break to work on the one glaring issue in his game, his work in the faceoff circle. He's taken a total 761 faceoffs and has 341 wins and 420 losses. Unfortunately the stats aren't broken up into how many are won and lost in their own zone but everyone knows that winning the faceoff is a key point in most hockey games. The Devils don't do well at it with the exception of Travis Zajac.
So if I am right and Henrique is a key to getting the Devils into the playoffs, it has to start right away by winning some more battles in the faceoff circle and either finding the back of the net or helping Elias, Brunner or Ryder find the back of the net.