New Jersey Devils (0-0-0) @ New York Islanders (0-0-0)
In a few years we will stop having to visit that place they call an arena on Long Island and head to Brooklyn to play the Islanders but for now, we will continue to play in them in the Nassau Coliseum.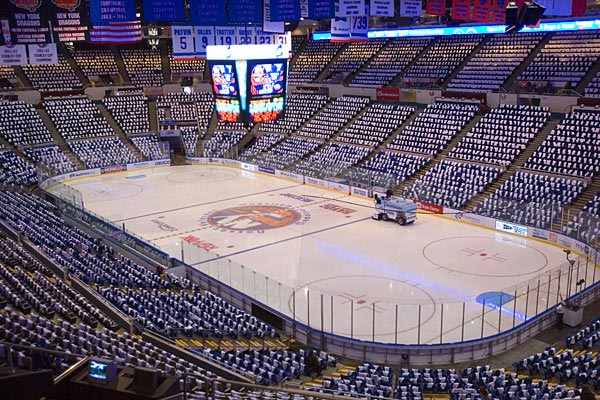 Here we go… CAN YOU BELIEVE IT?? Finally, after months and months of fighting over money and more money and contract terms and a whole bunch of stuff the average fan could care less about, it is time to drop the puck!!
This is the first preview so it will be kind of light because we really don't know what to preview for tonight's game but thank god there is finally a game.

Last Meeting
It was very late in the 2011/2012 season where we last saw the Islanders. Their season was over, ours of course was not as the Devils just clinched a playoff spot a few days before. Travis Zajac playing in just his 5th game since returning from a very long injury put home the game winner. A lot had been made about this goal at the time because many felt it helped Zajac's confidence level which was going to be needed for the upcoming playoffs.
Players To Watch
Well as Devils fans we are going to be watching everyone I am sure but the big news going into this season was the lack of replacements added for the departures of Parise, Sykora and Ponikarovsky. Together, those three put 59 pucks in the net last season. Where will the scoring come from? Without Parise on the team and without Henrique in the lineup, EVERYONE is probably going to focus on Ilya Kovalchuk. That is why I will be watching him tonight. How does he respond?
I'll be keeping my eyes on two Islanders tonight. Matt Moulson led the team with 36 goals last season and John Tavres led the team with 81 points. The Islanders are still the 5th best team in the Atlantic division but these two guys certainly have the ability to win a few games on their own for the Islanders. They proved that last season.
What To Expect
To be honest, I am not quite sure. Some of our guys have been playing in the AHL during the lockout, others went to Europe but a large number didn't do either. So that is going to be my main focus tonight, to see if the coaches worked them hard enough this week and got them ready…game ready.
The Islanders always play us tough and being that this is a short season and points are going to be critical in all 48 games, I would expect a battle tonight. Let's just hope after months of waiting, our guys are ready!!
As always, check us out on Twitter during the game and then come back for our recap after.