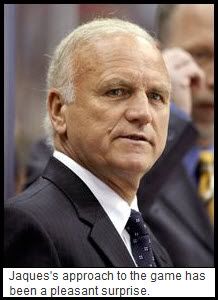 With 19 games in the books for the New Jersey Devils, they are on the verge of completing the first quarter of their season. So I pose a question to the Devils fans who come here and read my thoughts on the Devils. What are the biggest surprises (the good, the bad and the ugly) for you so far this season with the Devils? Of course I am going to give you my list.
When the Devils announced that Jaques Lemaire was going to be taking over for the recently departed Brent Sutter back in July, most Devils fans took a deep breath and asked "What?" The point of Sutter's existance in NJ was to change the Devils into a more offensive minded team and they proved last year that the had enough offensive talent on the team. We've often heard about Marion Gaborik's struggles in the all defensive system under Lemaire in Minnesota, would that be the case for Parise and Zajac this season? Lets be brutally honest here for a moment. Whenever Jaques Lemaire is the man behind the bench, the words "trap" and "boring" get thrown around a lot. With the Devils bringing in a coach known for that style of hockey, it made everyone wonder, even the hard-core Devils fans, if Lou & Co. thought that was a better recipe for winning. So far, Lemaire has proved that is not what he is here to do because the Devils have been everything but boring. For instance in a post-period interview last night, Scott Hartnell of the Flyers refered to the Devils as a "quick transitional team," a phrase no one would have used to describe NJ 10-15 years ago. Guys like Parise, Zajac and Clarkson are spending quality time forechecking (and doing so aggressively) and the defense is pinching up with the offense way more than Sutter ever allowed them to. The point is, this isn't the Jaques Lemaire we knew and loved in the mid 90's, it's a better Jaques Lemaire because he's adapted to the game around him. Now I know it's only November and the Devils may be playing way above their heads but so far, 20 games in, it was the right move.
David Clarkson had a respectable season last year posting 17 goals and 15 assists and averaging about 12 minutes of ice time per game. Through 19 games this season he has 7 goals and 8 assists and is averaging just over 15.5 minutes per game but Lemaire seems to be putting David Clarkson on the ice in very key moments, which proves the growing confidence that Lemaire has in Clarkson. My opinion of Clarkson a few years back was that he was going to be the guy to replace Cam Janssen after we shipped him off to St. Louis but he's become so much more than that.
Andy Greene saw action in 49 games last season and had 2 goals, 9 assists and 16 minutes of ice time in those 49 games. So far this season, he's turned into a real key player on the blue line. He's almost tied his total point production from last season and is averaging 22 minutes per game. Yes I realize the injuries on the blue line have pumped up is ice time numbers but this is another guy that Lemaire is gaining confidence in almost daily.
I was at the stadium the day the Devils drafted Niclas Bergfors back in the 2005 entry draft so I've been keeping my eye on him since then. At the time, we heard how much the Devils would love this guy but for the past few seasons, it seemed like he wasn't going to make it out of Lowell…ever!! His first few games this season, he looked very timid and I wasn't sure if he was going to work out but since that Rangers game at MSG on Oct 22, he's looked very comfortable. The kid has some wheels and has been making some good decisions out there.
The Devils are going to play a lot of close games this season. They are talented on the offensive side of the puck but I don't think they are so talented that they leave teams behind in the beginning of the third period. They will have those games from time to time, it just won't happen often. When the Devils lose close games, I keep pointing the finger at Marty. For instance, the loss to Philadelphia last night, I pinned on him because of his boneheaded play that led to the Flyers third goal. There have been times where I think Marty has been stellar but there are moments, like last night that I think he tries to do too much. The Devils are 6th overall in shots allowed per game so I'm not sure what more the defense has to do in order to gain Marty's confidence in their ability.
I don't think of the Devils as a phyical team this season. So far the Devils have 9 major penalties and are on track for somewhere in the neighborhood of 36 majors by the end of the season. The Devils ended up with 58 majors last year and I thought proved to the NHL that they weren't a team easily pushed around, which is how I felt the NHL viewed them in 2007/2008. Case in point, Sean Avery had his way with them multiple times that year and never really paid the price. Now the Devils have been winning (and winning can sometimes make teams a little less physical) and some of the majors have come at key times, for instance Clarkson v Clark in the Caps first game, but I am wondering if teams like Philly and NY will push the Devils around in order to get them off their game.
I've been killing Brian Rolston in my weekly up and down reports since week 1 but to be honest, I think I've been pretty accurate with my critique. We are paying him superstar money and I know he's the type of player that when he's hot, he's incredibly hot and when he's not, he's REALLY not but so far this season, I see very little effort from him. I know that he's second on the team in shots yet 7th on the team in points (with half the point total as Bergfors who is 5th). He needs to step it up and he needs to do so yesterday. He's a guy that expect to be in the top 5 in each category come the end of the season but at this pace, he'd be better off wearing a mask on the ice so we fans know that he is out there robbing us.
All in all the Devils have put together an impressive first quarter. After losing the first two homes games, we started wondering if the moves that were made and not made this summer were the right ones. The injury bug has certainly bitten this team and some key players but the Devils have dug deep and overcome them as a team and there is very little more a fan could ask for.