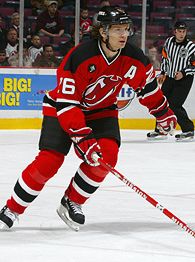 Well this certainly isn't a good start to Lemaire's time in NJ, not that this has anything to do with him. Patrick Elias will miss the next 3-6 weeks after having surgery yesterday to remove some scar tissue in his groin. Elias initially had surgery in June to repair a torn labrum, a tear in his adductor muscle and an impingement on his hip. He's been experiencing some discomfort with the groin since that has kept him from skating in training camp.
It's hard to lose someone like Elias for any amount of time and at any part of the season but the good news that I can see in this is that they figured out exactly what was causing the discomfort and were able to go in arthroscopically and take care of it. If I have to lose him, I prefer October to April. The Devils insist that this isn't anything like the surgery that Elias had earlier in his career or the sports hernia surgrery Jamie Langenbrunner had two years ago.
"We'll be looking for another center," Lemaire said on Tuesday. "He's an important part of this organization, but we have to expect that. I'm getting used to this, missing the top player." I will agree, Lemaire seems to be getting used to missing his top guys as he had to deal with a missing Marian Gaborik for much of last season in Minnesota.
In other Devils notes, Yann Danis will start in net tonight against the Rangers and rookie Jeff Frazee will play the second half of the game. Also, Kevin Weekes has signed with Hockey Night in Canada and the NHL Network as a commentator.
no comments