Written by Darren S | 06 October 2009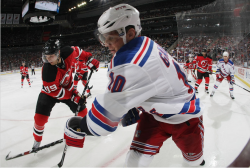 Lets start out with the positives, the Devils played much better than they did on Saturday night. They played with much more emotion, the offense didn't look completely lost and Marty, at times, looked better. They seemed to figure out how to pass to one another and the Power Play looked...ok. The Devils defense was able to contain Gaborik and Dubinsky and kept them fairly quiet all evening.
During the game last night, I thought that Rob Niedermayer has really come in and found a spot to fit in on this team. His line seems to do the most forechecking of any and while some might say they lack a finish, he had a nice goal last night.
Now, on to the bad stuff from the game. They still made some pretty big mistakes and still took a dumb penalty or two, although I will say the refs screwed up the Bergfors diving call and the completely missed the 6 Rangers on the ice right before the Oduya penalty. Skating the puck out in front of the net is just an stupid mistake to make, even if it doesn't end in the other team scoring and in the end Marty let in a soft goal that eventually became the game winner but to be fair, the Devils did have the whole third period to try and tie the game.
With Sutter in the mix last season, I thought the Devils did a great job of rolling 4 lines but the 2009/2010 version of this team really lacks a 4th line. I thought the Rangers 4th line did a tremendous job last night and the Devils 4th just took up space whenever they were out there. So far I am not impressed with Andrew Peters and feel that maybe we should rethink his place on this team.
So far this season, scoring does seem to be an issue but it's only game 2. Yes, losing to the Rangers hurts, no matter what time of the season it is. It's just amazing to me that Lundqvist seems to have some hold on these Devils. His record vs Marty is, in my opinion, so much better than he actually is. I'm not worried about this team because afterall, its only two games. Look around the rest of the league, Carolina, Detroit and Vancouver are also winless so far and Colorado, who was supposed to be so bad, is 2-0. It's early and the Devils just need to find their game.
Devils get a couple of days to work on things and head to Tampa Bay on Thursday night