Written by Darren S | 07 January 2011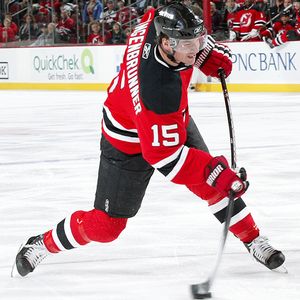 I didn't get a chance to really sit down and watch the game last night. I do know that the Devils appeared to play decently to start the game and headed into the locker room after 1 period up by a score of 1-0 and were probably feeling pretty good about themselves. In the second, as usual is where the game changed for NJ. Hartnell and Leino hooked up twice, including a bouncing puck that made Hedberg look foolish for the second game in a row. Briere added 2 more goals in the third and the Flyers sent the Devils home with another mark in the L column. The Devils head to Philly on Saturday which is sure to be another tough game.
The big story of the night however wasn't NJ losing or having another bad bounce kill them, it was that Lou Lamoriello told Jaques Lemaire right before the game that Jamie Langenbrunner would not be playing, which of course led to all kinds of speculation.
As the night progressed, I heard that Jamie is getting traded to:
* Philadelphia for picks, which to me was highly unlikely even though we are at the bottom of the league. Lou never deals players to teams in the same division.
* The Bruins were going to be getting Langenbrunner for picks
* The Stars were the team and a conditional draft pick was coming back
No matter what destination I was hearing for Jamie, it was pretty obvious that only draft picks were coming back. The deal got done this morning and in the end, one our followes on Twitter (@rchess) was correct with the Stars and a conditional draft pick rumor.
For me, its not about replacing Jamie. He was a great player for NJ in the past but over the last year or so, he hasn't been on the tops of my lists. He had a some type of issue late in the season last year and never really did what I thought a man wearing the "C" should do for this team. So i do feel by getting rid of Jamie, the Devils have gotten better. His 4 goals and 10 assists in 31 games played this season is easily replaceable.
This trade also sends a message to the rest of the team and guys shouldn't get too comfortable. Maclean may or may not have been the right guy to coach this team but a coaching change hasn't really done much for this team. I'll say that since Jacques has taken over, I haven't seen that "we could care less" attitude I saw in Atlanta but the results haven't changed. The Devils can't just sit there and do nothing while losing games. The only thing left to do is to try and start shedding guys. If losing guys and only getting picks in return is what happens, then I am all for it. Let the fire sale begin and start getting some more youth in Albany experience in the NHL. Oh yea and resign Parise in the off-season and once Parise returns from injury this season, he should find a "C" on his jersey.