The Lemaire Era Begins Today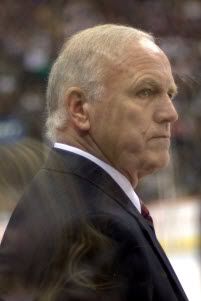 With the start of rookie camp this morning, its very clear that the season is just about upon us. With Brent Sutter lying his way out of NJ, the Devils have welcomed back a familiar face in Jaques Lemaire. I've thought about this move all summer and finally decided to put those thoughts to paper...paper being this blog.
Bringing back an old face to the organization is nothing new to the Devils but is bringing back Lemaire the right move? Hard to say at this point in time. I was in favor of bringing in a young coach (for the record I never wanted to give the job to John Maclean) and keeping him there for a number of years because I am tired of this revolving door of head coaches and I have to believe Lemaire isn't a long term solution given his age. Lemaire is known for his defensive style which doesn't exactly work in this league anymore but I want to believe that he recognizes that. I do believe Jaques Lemaire as the Devils coach has the ability to work out for several reasons:
1) He's a take no nonsense type of coach who will demand respect on the bench and in the locker room. There will be ZERO question as to who is in charge and who the players will answer to which is something I always questioned about Brent Sutter.
2) As I stated earlier, he is a defensive minded coach. This doesn't mean that the Devils will or should abandon the offensive style they've been working on over the last two season but that Lemaire should fix some of the weaknesses they did have on defense. While they were fourth in GAA's last season, the Devils did have issues holding on to a lead late in the game, a weakness pointed out by the Hurricanes in Round One of the playoffs. I am hoping Lemaire will be able to use his defensive knowledge and boost the confidence of the defense which will translate into holding on to leads in tight games.
3) Brian Rolston should make more of an impact this year. Rolston didn't succeed under Brent Sutter but came to NJ at the price he did because of his success under Lemaire. The is no doubt in my mind that Lemaire will look to Rolston to help lead this team (Langenbrunner rightfully remains the captain). I wouldn't be surprised to see Lemaire give Rolston "A" that Madden used to wear and that type of responsibility should benefit both the Devils and Rolston. I'm sure we will see Rolston back on the wing where he played for Lemaire in Minnesota, which should also increase Rolston's production.
4) The young players who are going to replace the guys that left get to learn from an excellent teacher. If you think about the young guys that Lemaire has taught in his career, you would absolutley agree with the statement I just made.
The one thing that remains clear is that the Devils can not afford to take a step backwards in their approach on the ice, something that a lot of fans fear will happen with Lemaire back in charge. The Devils have spent a lot of time trying to adopt an offense first attitude and escape the "Trapping" image that Lemaire brought the first time around and Lemaire must recognize that. Players like Parise, Zajac and Elias must be given the oppurtunity to play their game and the defensmen must be given the green light to pinch up and create offensive oppurtunities when they present themselves. Lemaire is smart enough to understand this and recognize that this team is much more talented than his Minnesota teams or even his 1995 Stanly Cup Champion.
As I said in the beginning of this post, I am not sure Lemaire was the right move (because I believe his time here is limited) but I believe 100% that he can work and I am willing to give him that chance. Of course there will be a transition period as there always is with a new head coach but that transition starts today as rookie camp opens up and kicks in to high gear when the veterans get here on Saturday. Get ready because the puck drops on the 2009/2010 season in exactly 24 days.